Yiwana brand underwear , Qingdao Shengwen Outlets shopping malls grand opening in June 2012! The new underwear adds the season's fashion elements, loved by the local customers, the opening day of an endless stream of people, lively extraordinary. Italian Wana INVARIA-Badeba apparel underwear company underwear brand underwear design, production, retail sales as one integrated products related to bras, underwear, casual wear at bedtime, thermal underwear and so on.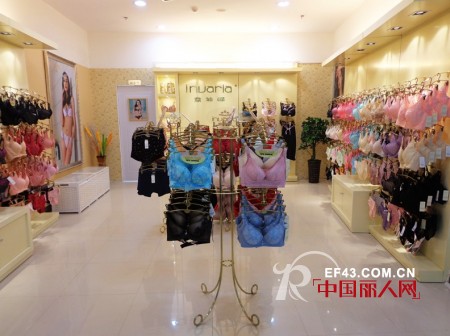 Italy Wa Wa underwear Qingdao Outlets counter image

INVARIA Italian wanna underwear from the designer's hand, the series design reveals the most popular international fashion taste, style is full of passion and romance, the material used to lace embroidery, the designer lace embroidery in the beautiful graphics , Simple lines, bright color blocks, into the production of which, interpretation of a warm, sexy charm, set off a charming charm, a romantic line of style makes women sexy and charming, and with a classic design series allows women to expose Graceful. Italian Wana products not only have elegant connotation, at the same time provide a comfortable fit body wearing feeling. Pay attention to the production process on the soft and delicate, comfortable board-style clothing, fabrics pay attention to breathability, water permeability, heat transfer performance, abrasion resistance and color fastness and other high quality indicators. Italy Waa underwear in the design and use of fabrics have a sense of advance to achieve a sexy and vulgar, beautiful and elegant and the best results. Products noble and inexpensive, is the pursuit of fashion, women pay attention to the soul of the best choice.

General spandex are rich in varieties and complete in specifications, Being an ideal textile raw material, it has the outstanding quality of high strength , great elastic modulus and excellent durability. The product has been widely used in the production of Knitted Fabric, weaving fabrics, covering yarn and narrow fabric, etc. Its product specification covers from 15D TO 1120D,Which can meet the needs of various customers.





[Characteristic]

1. rich in varieties:product specification covers from 15D TO 1120D

2. widely used:Knitted Fabric, weaving fabrics, traditional covering yarn, air-jet covering yarn, core-spun yarn, narrow fabric, socks, underclothes.

3. This series of product have stable quality and uniformity.

4. The company has set up perfect sales networks and after-sales service system ,providing high quality of products and services for you .




General Spandex

General Spandex,Nylon Spandex,Cotton Fabric Spandex,Bubble Chinlon Spandex

LDZ New Aoshen Spandex Co.,Ltd. , http://www.ldzspandex.com
August 27, 2019